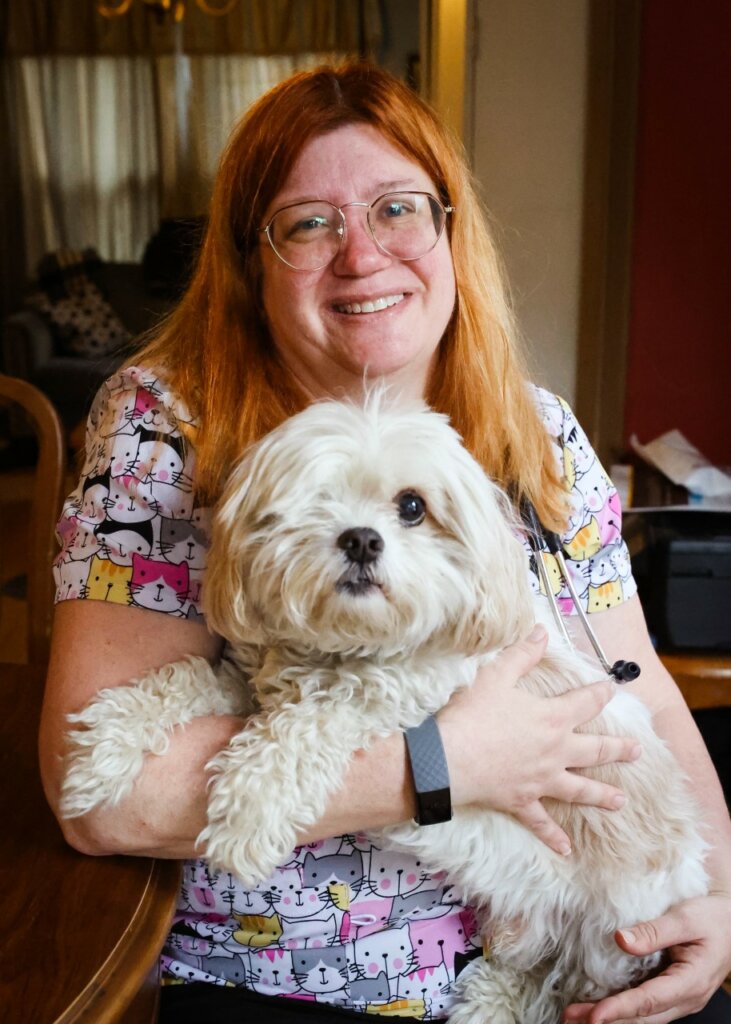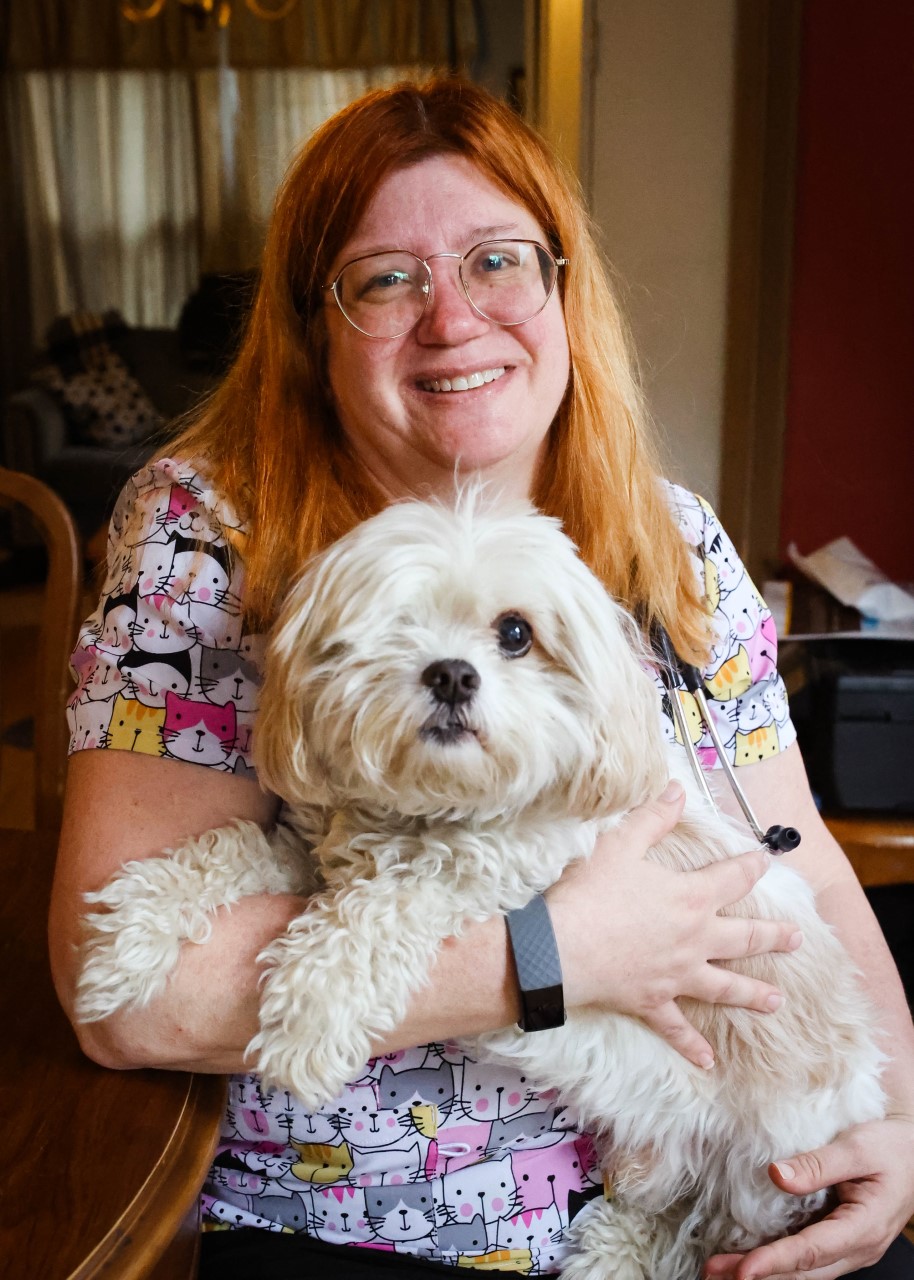 Dr. Romaniello is a Connecticut native who lived in Middlebury until she was six, then moved to Naugatuck. She earned a BS in Environmental Science from Concordia College in 1992 followed by a DVM from Mississippi State College of Veterinary Medicine in 1997. She worked at Waterbury Veterinary Hospital, Mattatuck Animal Hospital, and the Connecticut Veterinary Center prior to starting At Home Veterinary Care in 2006.
Dr. Romaniello is married, has two daughters, 2.75 cats (one is 3-legged) and two dogs minus one eye. She enjoys hiking in her free time, and her guilty pleasure is romance novels.
Taking the veterinarian oath is something Dr. Romaniello takes very seriously and works to honor every day through her work with your pet.
"Being admitted to the profession of veterinary medicine, I solemnly swear to use my scientific knowledge and skills for the benefit of society through the protection of animal health and welfare, the prevention and relief of animal suffering, the conservation of animal resources, the promotion of public health, and the advancement of medical knowledge.
I will practice my profession conscientiously, with dignity, and in keeping with the principles of veterinary medical ethics.
I accept as a lifelong obligation the continual improvement of my professional knowledge and competence."
A note from Dr. Brenda:
I've wanted to be a veterinarian since I was 6 years old – I made up my mind and never changed it. My mom was always trying to nurse injured wildlife that our cat caught back to health and I loved being part of the process. When any of our animals were sick or injured my mom's philosophy was if they were eating, drinking, and greeting you at the door, they should be treated or nursed.
We had a cat that was hit by a car and became paralyzed in his rear legs and was fecally incontinent (I got in trouble when asked his name in grade school! –itty Kitty). In later years, we moved to a house where the previous owners left their young shepherd in the house with an open toilet full of water and a 50 lb bag of dog food. She lived a long happy life with us, escaped from the yard a lot, survived being hit by a car, had a non-working tail, chronic ear infections, and a huge mass on her nose. She died quietly at home when I was in college. I was an old hand at cleaning ears and medicating patients by that time.
My passion is preventing disease and promoting quality of life in my patients. Disease prevention starts even before birth. Caring for the mom is caring for the puppy or kitten who is yet to be born. The mom can be vaccinated and dewormed. Making sure the parents are free of hereditary problems before breeding is especially important.
As many as 40% of dogs and cats over the age of 4 show signs of arthritis on x-rays, according to a recent study. Recognizing signs of pain and treating it early leads to a better quality of life for my patients. Better nutrition, weight loss, and pain medications are just a few techniques we can use to make patients happier.
Educating my clients to recognize signs of pain is a proactive approach that I often use. I'm also an educator at heart. I truly believe that if you understand the problem, you are more likely to accept my recommendations.
I have decades of experience and I love learning. I continue to read several journals every month, attend local veterinary association continuing education meetings, as well as distant continuing education meetings. Veterinary medicine continues to advance and change. Many of the medications I prescribe today were not available when I graduated from veterinary school. We now have vaccines against some cancers and allergies.
Thank you for taking the time to get to know me, and I am grateful for the opportunity to care for your pets.